APPENDIX A: VOICE LEADING OVERVIEW
---
The Chromatic Appoggiatura
Diatonic appoggiaturas were discussed in a previous section. However, appoggiaturas are possible using chromatic notes and these were quite common in the classical period. A chromatic note, a semitone away from a harmony note, replaces the main harmony note, usually making a discord, and then moves onto the main note via a slur. A slight emphasis is usually given to the chromatic appoggiatura in the same way as to the diatonic appoggiatura. Like the diatonic appoggiatura, the chromatic variety need not be prepared. In the following example, a chromatic appoggiatura is applied to the 5th of the dominant chord in the first bar shown and a chromatic appoggiatura is applied to the 3rd of the tonic chord in the second bar. A chromatic auxiliary note is also included in the first beat of the second bar.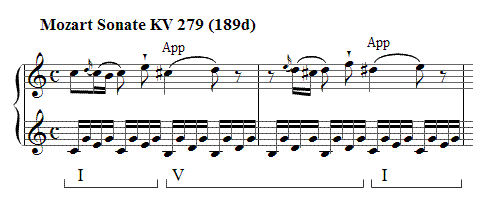 Like other voice leading devices, chromatic appoggiaturas can be used in parallel 3rds or 6ths.
Also, whole chords can be created by multiple appoggiaturas see the double appoggiatura and Chapter 3 Part 4 for further details.
Next Topic: The Blues 7th